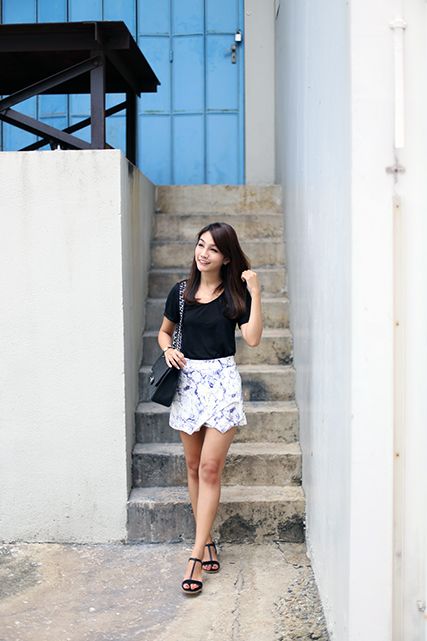 Saturdays and Sundays are my favourite time of the week because it means a lot of pigging out with J! Food always tastes better when you're eating with your favourite one (: Dressed down in
Hollyhoque Comfortably Cool Top - Black
and marble printed skorts teamed with a pair of sandals I got from Seoul.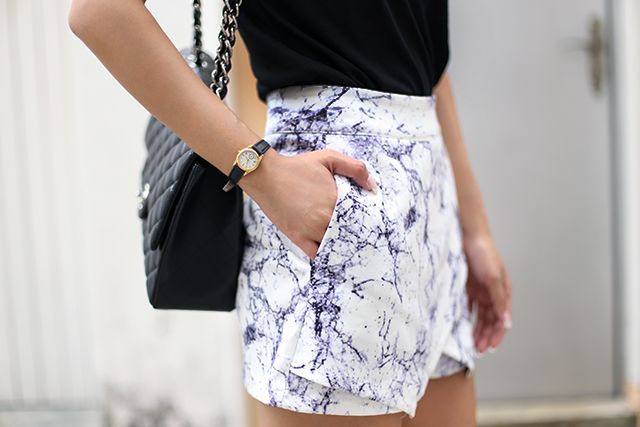 Details up-close. (This is also available in Black and is stocked in the Gateway store)
So our initial plan was to head to Lola but when we got there at 10.30AM, it was already packed. Reluctant to queue, we drove off to the Tanjong Pagar area (Where we quickly snapped a few OOTDs) for some kick-ass ramen at Tonkotsu, Orchid Hotel. There is usually a queue but because we were one of the first few to be there, we didn't have to - yay!
Tonkotsu is not only one of the more affordable ramen places in Singapore, you can also help yourself to the eggs at your table for free!
Spicy beansprouts too! Love this so much, I couldn't stop helping myself to it.
& while you're waiting, don't forget to pound the sesame that will enhance the flavour of the soup
I had the spicy ramen and the soup base was so thick and addictive, I literally went to heaven. Though this is not the best ramen I've tasted, it is probably one of the most authentic in Singapore. Please do not judge from my anyhow-ly taken pictures, they do not justify this bowl of goodness at all :(