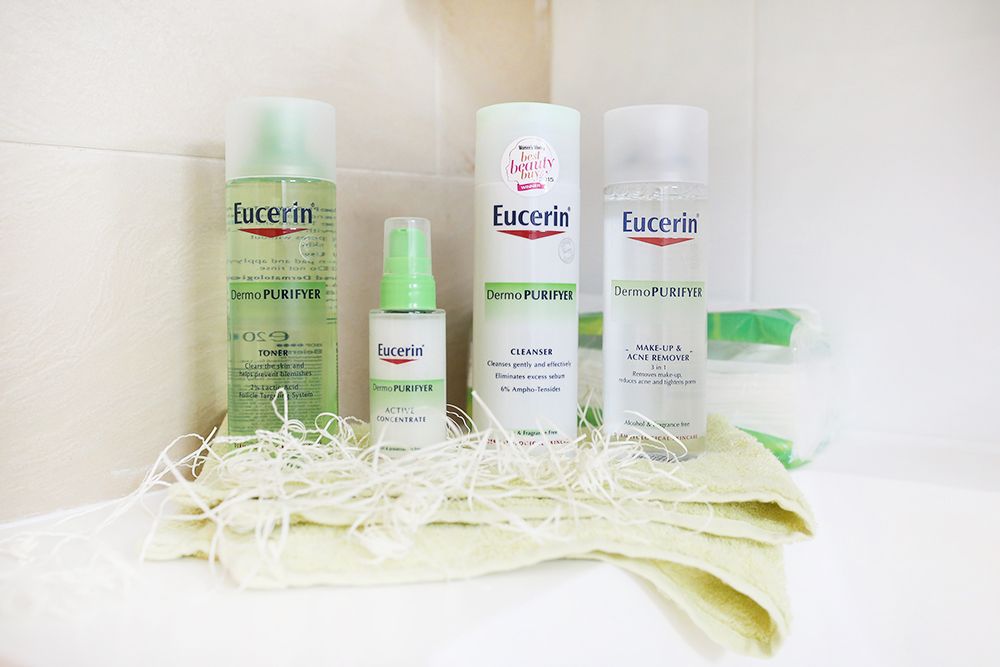 I was given these Eucerin products to try recently and if you haven't heard of this brand before like me, you ought to read on because I've been really enjoying their products so far!
Eucerin is one of the leading dermocosmetic brands in America and Europe that develop products for different needs. I received the DermoPURIFYER skin care line that is invented to fight against acne.
All products under the Eucerin DermoPURIFYER range are compatible with commonly used acne medication and suitable for all needs (minor blemishes, combination skin, oily skin, blemished skin, acne). The efficacy and tolerability of all the products have been scientifically proven in extensive clinical studies in affected patients. Volunteers who have used the products demonstrated a significant improvement in their acne symptoms after just 4 to 12 weeks of consistent usage.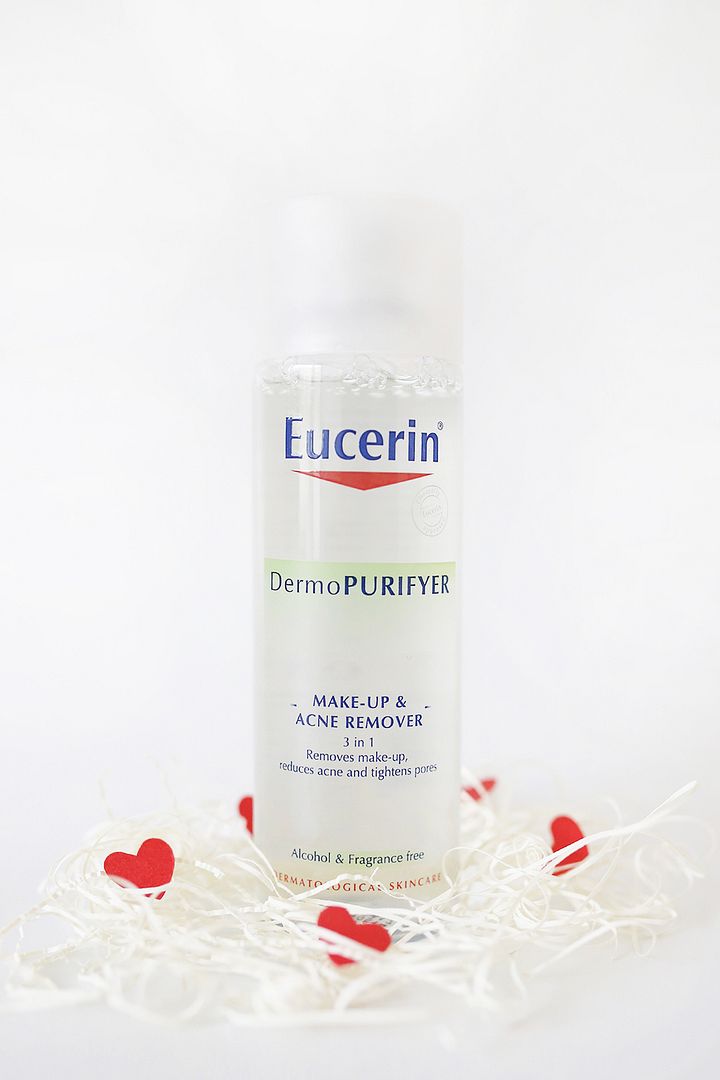 The latest addition to the DermoPURIFYER skin care range is the 3-in-1 Make-up & Acne Remover that works as a cleanser, make-up remover & toner altogether! While it removes make-up and impurities it also promises to tone and moisturize.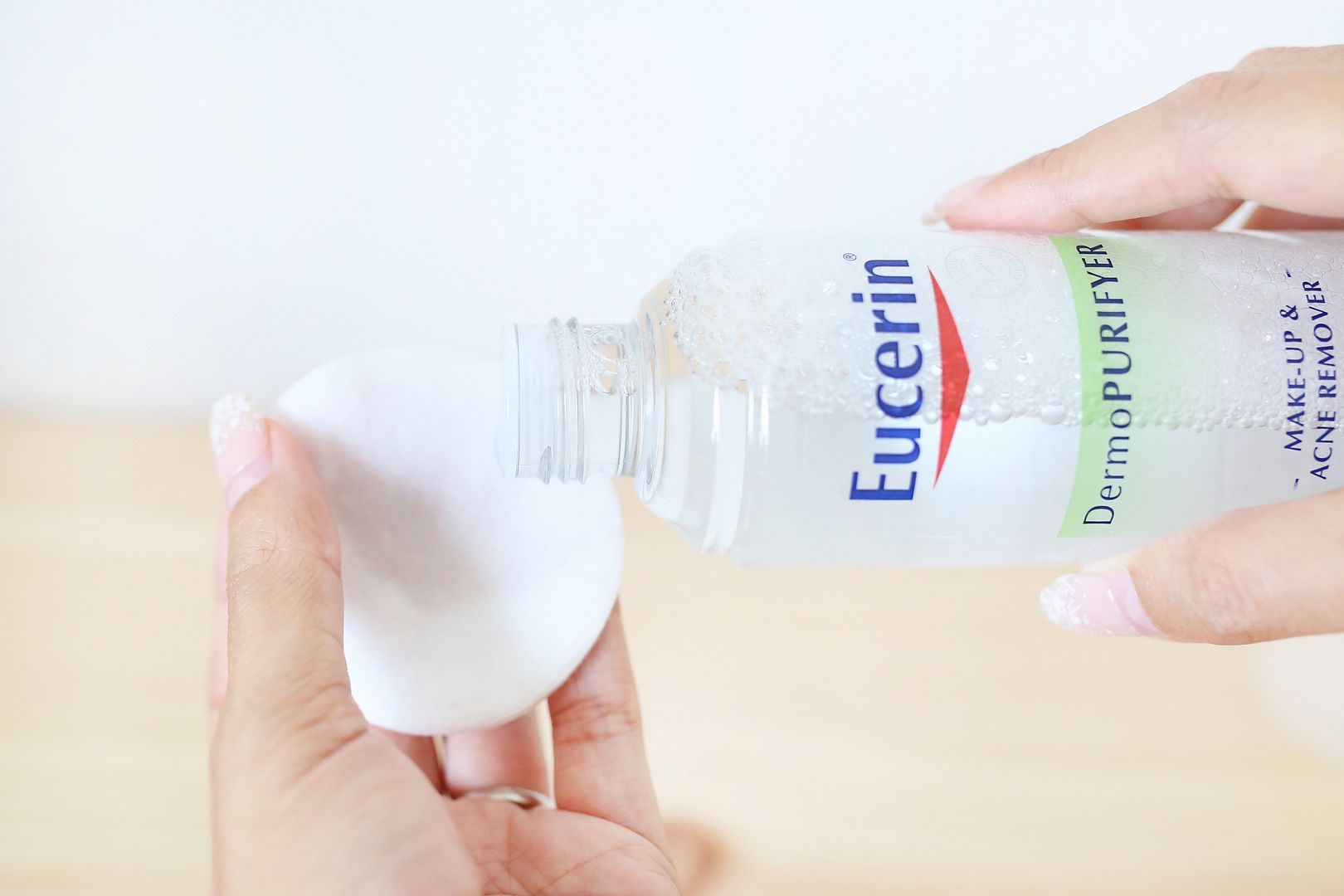 This micellar technology formulated liquid cleanser can be used without water. In addition to the micellar water, it contains Alkylpolyglucoside Complex that removes dirt and dust effectively while being gentle on sensitive skin. Gluco-Glycerol and Hyaluronic acid can also be found inside the product to foster the skin's natural breathing process. Just pour what you need on a cotton pad, wipe around your face with the moistened pad and that's it! You don't even have to rinse off with cleanser and water after, how awesome is that?! Other than the convenience, what I really like about this make-up remover is its ultra light texture and effectively moisturizes, non-drying on the skin at all!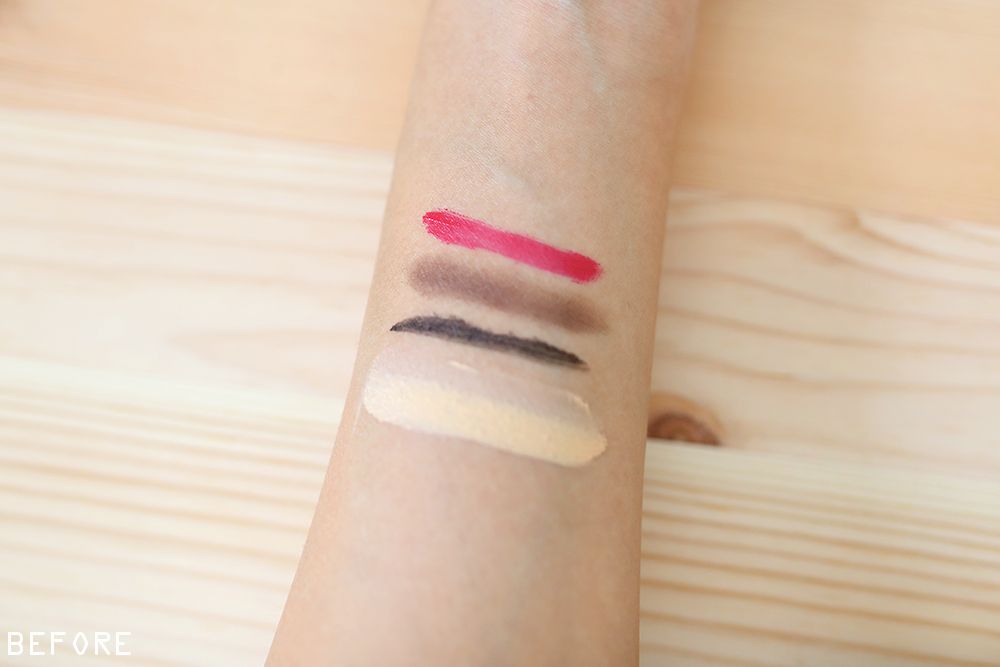 Here is an arm swatch of the make-up I use almost on a daily basis.
(From left) Foundation, waterproof eyeliner, eye shadow & lipstain
My make-up (Including the waterproof eyeliner!!) came off instantly with just a wipe of the DermoPURIFYER Make-up & Acne Remover.
Impressed with their Make-up & Acne Remover, I shall jump on the bandwagon and take on the Eucerin 30-Day Challenge too! I will use the mentioned 4 products in my daily skincare routines and see if there is any difference by the end of it!
I do not have severe acne problems but I tend to get breakouts whenever it is the time of the month (Like now) & always on my chin so you can see there are several blemishes (From last month, and last last month.. You get my drift) on my chin right now. I hope by the end of 30 days, these blemishes will lighten and also control the PMS acne I get every month D: For accurate results, I will also not use any other acne care products other than Eucerin!
Without further ado, let me elaborate a little further on the 3 other products I have just included in my daily skincare regime.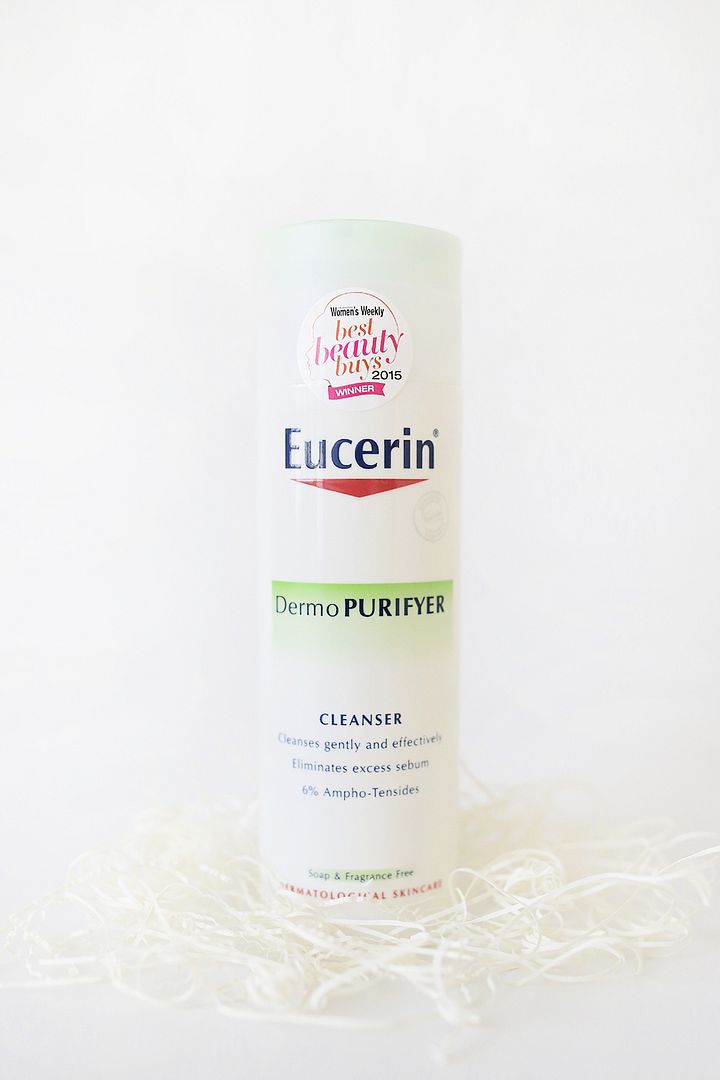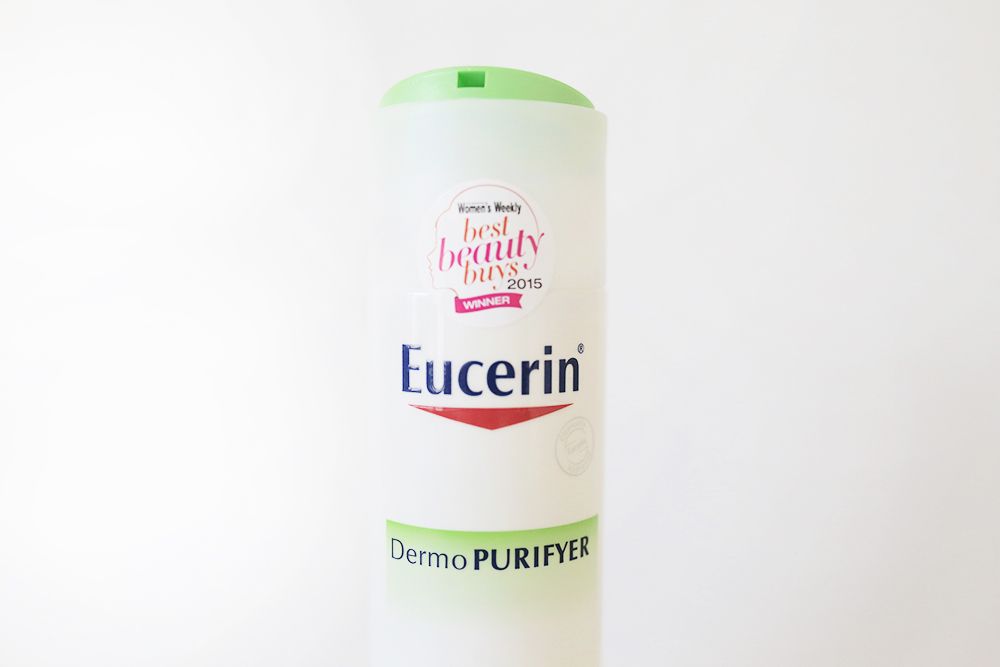 DermoPURIFYER Cleansing Gel
What I like most about this DermoPURIFYER Cleansing Gel is that it is SOAP FREE! I love soap free cleansers because it is milder on the skin & prevents dryness. At only $23.90, it is no wonder that this cleansing gel won the Women's Weekly Best Beauty Buys of 2015!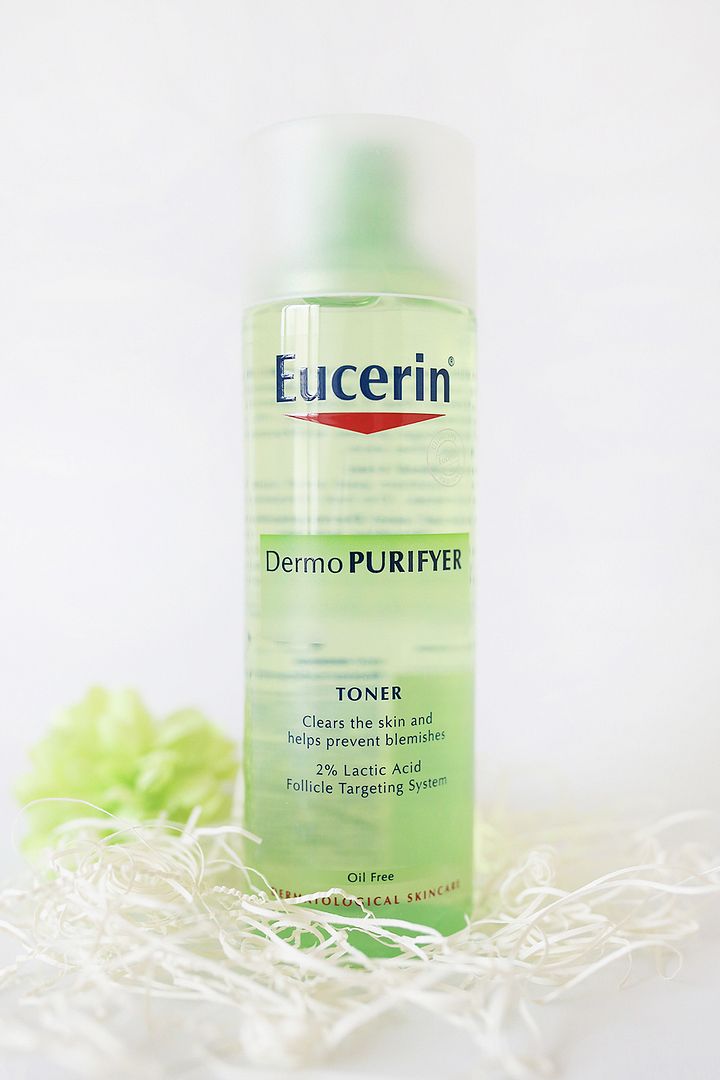 DermoPURIFYER Facial Tonic (To be used after cleansing)
I always skip the toner whenever I'm lazy (Which I am, most of the time) but having used this for 3 nights in a row, I am now convinced that a toner is as important as removing make-up. The toner thoroughly cleanses your face, removing any remnants of makeup that clings onto the skin. It also contain antibacterial formula reducing the growth of bacteria (one of the four factors of impure skin) and prevents blemishes.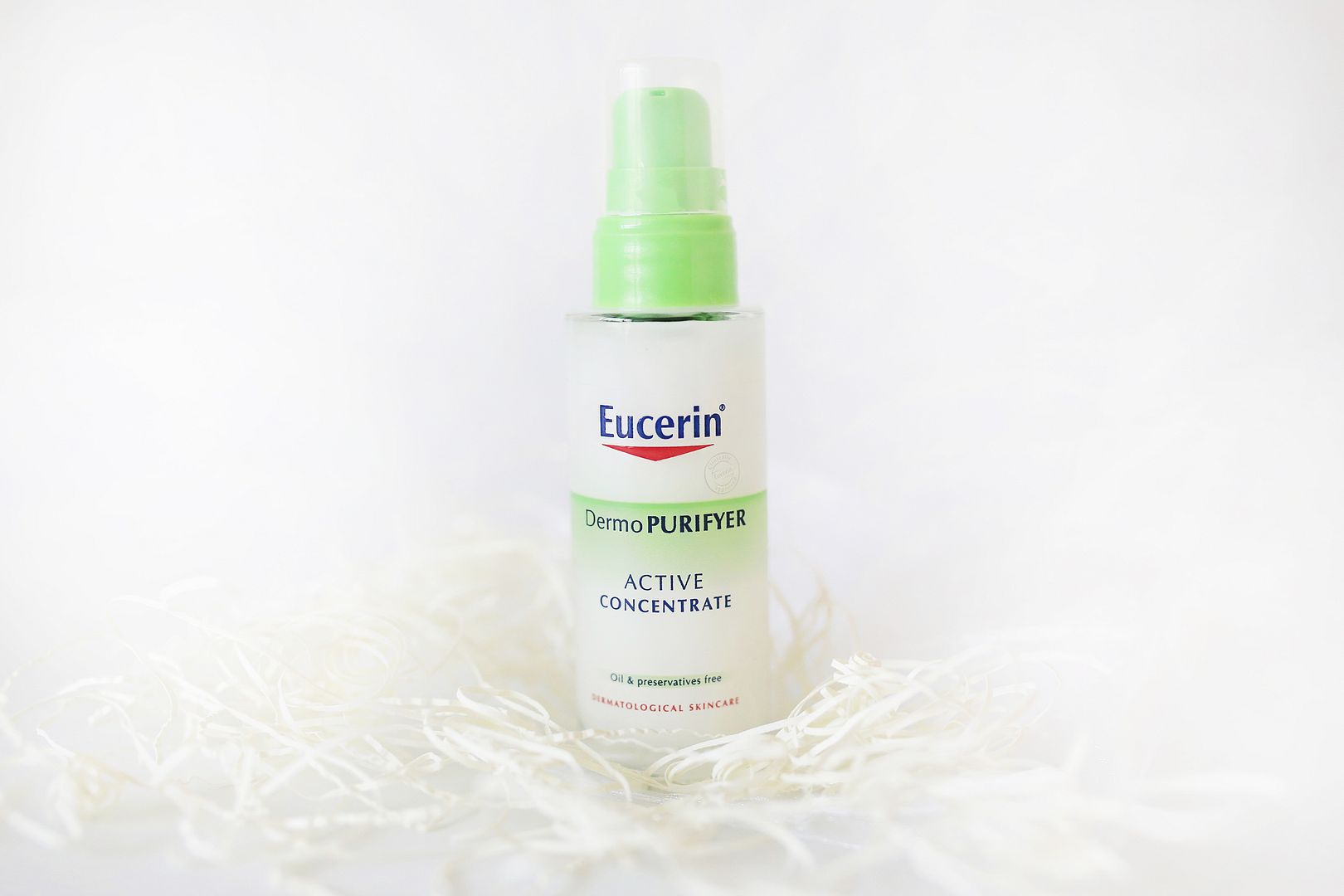 DermoPURIFYER Active Concentrate
After the toner, I'll slap moisturizer all over my face before applying the DermoPURIFYER Active Concentrate on targeted spots. One of the key ingredients used in this Active Concentrate is lactic acid that has the ability to dissolve thickened epidermal cells caused by acne, as well as comedones. The formula is very watery so it doesn't feel sticky. I've only used this for 3 days so I haven't seen any noticeable results yet. Will do an update about it again when I complete my Eucerin 30 Day Challenge so stay tuned!