Doing up a post on the "Kangaroo resort" because I received quite a handful of messages on Instagram asking about it!
Walpole is located approximately 4.5 hours drive away from Perth City so it'll be good to stock up on some water and snacks before you hit the roads.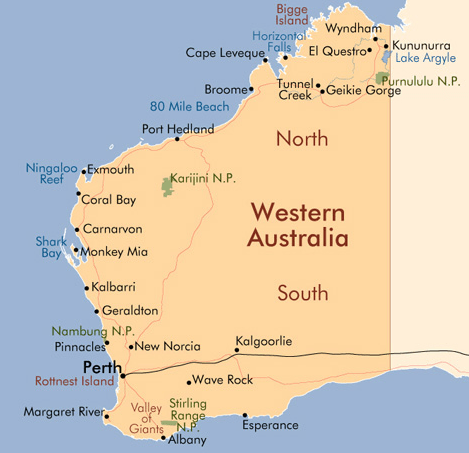 (A map I ripped off Google!)
Walpole isn't shown here but it is between Margaret River & Albany. Esperance is where the Pink Lake is located but it is another 5 hour drive from Walpole so we had to give it a miss due to time constraint. Will definitely want to visit next time though!
We rented our cars from Hertz and bought full insurance coverage because the previous time we were in Tasmania, one tyre had a nail in it and we almost needed tow service D: The same thing happened to us again this trip (Suay or what lol) but lucky the spare tyre fitted well and lasted us throughout the trip. More importantly we didn't have to worry about the damaged tyre since its insured.
Oops, sorry I digressed. Err, back to the
Walpole Wilderness Resort
. The chalet we took came with 3 bedrooms, a kitchen and an outdoor BBQ pit which we fully utilised. We stocked up on our grocery at IGA (Just 10-15 minutes drive away from the resort) and busied ourselves the entire evening preparing dinner.
We also planned to visit Elephant rocks (About 1 hour drive away from WWR) after checking in but the kids were tired so we stayed in and just chilled at the chalet with board games.
We had great view of the resident Kangaroos and the kids had so much fun feeding (Dried food provided by the chalets) & chasing after them lol! "Kids" include my husband too.
Oh hello you!
Can you spot the joey in his mama's pouch?! Super cute.
The night saw us bonding over dinner + wine & STAR GAZING.
Rise & Shine, OOTD time by the pond in front of our chalet.
This guy is always my test subject.
Wearing newly released
Sullen Stripes Jumpsuit - Black
& Luxe Bomber Jacket -Black (Sold out) from Hollyhoque!
Making full use of this backdrop before we head to our next destination...
Valley of the Giants Tree Top Walk.